So I was sitting around waiting for the mail to come (as I do every day lol jk) And in walks my brother with a tube

Being that I got my Nanchatte Renai promotional poster is a close tube as that I freaked and did a happy dance.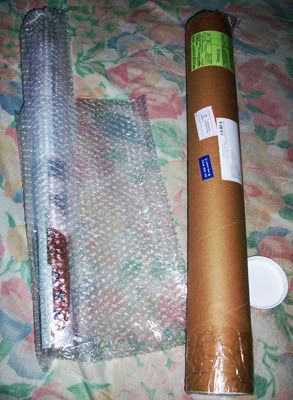 What could it be you all may be wondering? What would put me in a down right tizzy of excitment and joy....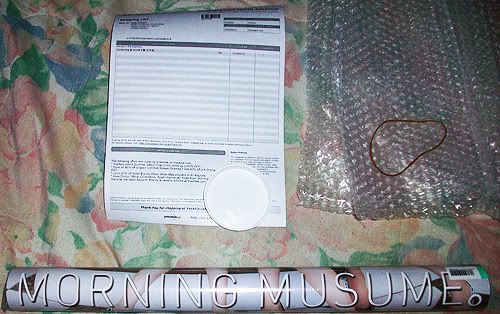 That's right! Morning Musume of course! And so we have the Morning Musume 2010 calendar. When opening it up I was right to guess it to be poster size. And if you include the binding that holds it together than it is a big larger than the Nanchatte Renai poster, but without it's a bit smaller. Some things I noticed was that instead of having plastic binds they had before this one is bounded much like a book. Also it has a nail hole in it to hold it up. And there is also perforated edge on it for easy rip ability for those you are done with whatever months, or fans like me will use them for future posters.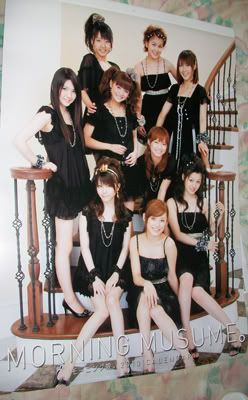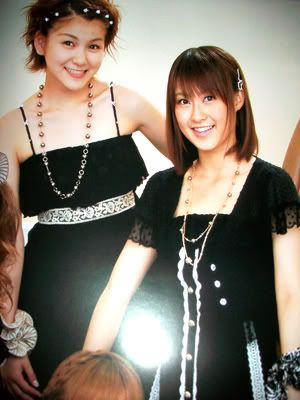 Now we have the cover. Seeing as I have this up close you can see it all. It's so pretty. All the girls look so classy. I know some people were questioning the hair choice for
Mitsui
and some for
Niigaki
but when you have it in your hands it's not even a problem. I have a close up of
Mitsui
and
Linlin
from the front, I tried to get a close up for
Mitsui
when I could. (Pardon the glares, it's hard to take one without it)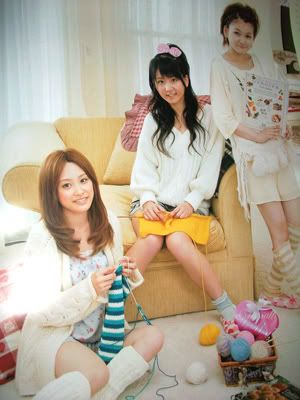 The close up for this one didn't come out too well so I left it out till I could make it nicer. Well this is for the month of January and February. I added on the side with the calendar part in it the dates to show that it has the girls birthdays decorated on it as well. Some people were mad thinking that they didn't do that this for next year's calendar. Well they did~! So now you know
Mitsui's
birthday is on a Tuesday next year.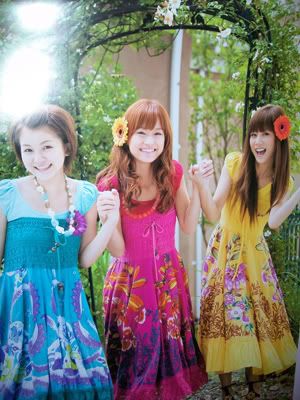 Next
Mitsui
page is May and June. Pardon the super glare on the close up of
Mitsui
and
Eri
.
Mitsui
was on the far left, prone to glare. So this one is really cute and it's really bright. I love it! This one I was questionable on this one just because it wasn't one of my favorite outfits from this calendar. But I think it's the shock and awe of having it in person that is winning me over.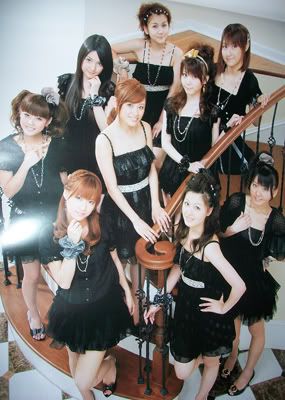 This is the back cover with my top three Musume's together in the top right corner. Hello
Mitsui
,
Linlin
, and
Reina
. So this calendar is really nice and well put together. I am in awe of the beauty of Musume in a calendar. I think the only thing that would top the calendars are the life size cutouts and meeting them in person/watching the concert live.
So now I have counted and have seen that with Kimagure Princess it is
Mitsui's
10th single as a part of Morning Musume. Congrats
Mitsui
! So now I have 'Rank Your PVs'!!! This is basically taking what you believe the ranking for the 10 PVs
Mitsui
has been in Musume and how you like them in comparison to the others. Here is mine in order from 10 to 1.
10. Resonant Blue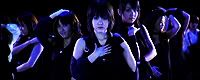 Now the only reason why this one is really low is just because in the original PV there is no
Mitsui
in at all, she has no lines, and it's so frikin' depressing to me to sit and watch all
Ai
,
Reina
, and
Koharu
. I don't see how all the other girls didn't rise up and argue this. I mean the only one who mentioned it was
Sayumi
who asked for more lines in the next single. And ya know what happened? She got those lines! Not saying I don't like the song, when I first had my other computer this was in an epic battle to be #1 on my itunes. It's just not my favorite.
09. Onna ni Sachi Are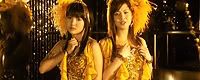 Now this one is a good song as well just not that good of a delivery. I mean you have your first single with just 5th gen in there and the new girls, and you dress up like a sexy big bird?
Mitsui
does look so little going back to get the screen cap for it though. Nothing too bad, PV is not that great. But I can deal since the song is awesome.
08. Pepper Keibu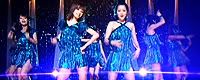 I love the song, I love the dance, I love everything about this song, I mean the PV too, that dance break is killer. But I just can't rank it up higher. But it's a very good cover and a solid song from 2008.
07. Naichau Kamo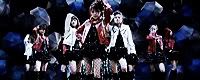 The first song of this year, wow it feels like so long ago. My favorite thing about this video is the close ups, I mean they are so nice and pretty. I think they used a filter in the editing stage, but it's so amazingly pretty. One of my favorite close ups. Plus the tears were a nice touch.
06. Mikan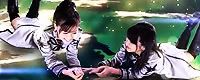 I don't care if people say this is too over played, or it didn't sell well. This song and PV are really cute and they are awesome! I love how we see the girls when they were younger, I love seeing the scene above, the girls on the earth with each other. You can really see the connection from
Mitsui
to
Koharu
in this video. Also the making of is really fun.
05. Kimagure Princess
I know this just came out but this PV is a really good one despite what you might have read. Some people take other people's thoughts as truth. Think for yourself. This PV is really artistically interesting and I can't wait to see the photos
Mitsui
took of the place they shot the PV at. I also want to see what the other PVs are gonna look like.
04. Kanashimi Twilight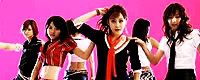 This is another great song and PV. I love the punk rock style and I love the song. It's just a really good PV, not as good as Kimagure, but it's got a better song.
03. Egao Yes Nude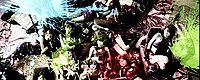 For the bronze we have Egao Yes Nude, Mitsui's first single with Morning Musume. It's got a nice message of being yourself and natural and the dance is fun and the song is amazing.
02. Shouganai Yume Oibito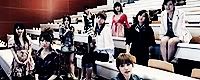 I've never seen such a following for a song like this. I love it, fans love it, and I think you should love it as well.This is the PV fans dream of, has near equal lines for all members, has a little bit of a story time, and has a theme in it. I really love how this PV was presented, the colors were washed out a bit and they have a sad look about the girls. It's a great PV and it really fab.
01. Nanchatte Renai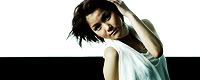 Yes, that leaves Nanchatte Renai. I'm not even sure why I like this one so much. I mean the song is awesome and yeah there are 22 versions of it so it's crazy but I just love it. The contrast of black and white is great and I like the near equal lines again.
So there you have it! The 10 singles Mitsui has been a part of as a member of Musume in my rankings. Feel free to snag images and do your own. Seeing as this post got really image heavy I will do a review for the B-side collective album on a different post in the future.