I have finally gotten something from the
Hello Store USA
. Despite the fact I said I was gonna wait to get the cellphone charm I was told to get something useful from a friend. So I figure I would get that. If anything I can add it to my keys. I got that as well as the last set of
Mitsui
2L photos from P9D and a set of Reina 2L photo cards from the same concert. (If you knew anything about me it should be that I can't let
Mitsui
stand alone if
Reina
can be added) I was kind of shocked to see I had gotten the last set, and a bit proud at the same time. Being a
Mitsui
fan it makes me feel accomplished. For fans who have questions for the store you can go to
this forum
to have your questions answered by the staff of JapanFiles that runs the store. I also added links to places where you can buy CDs. I have ordered from all the places linked but HMV Japan. I have heard some good and some not so good things about it. All up to you who you buy from.
I also added a picture of the week on here. I figure most of you all don't have enough space for all the
Mitsui
photos I have collected through H!O, Aewen's site, and from Yahoo! Auctions Japan. If you click on it you can get a larger picture. This one is from summer 2008. To tell the truth I never really found out where these shirts were meant for but I found the design very cute.
It also seems that I missed a DVD release in November; the DVD for Hello! Project 2009 Summer Kakumei Gannen ~Hello Chanpuru~ will be coming out.
Mitsui
appears in Morning Musume with the rest of the "gang", as a part of Tanpopo# with
Kamei
,
Chisato
, and
Yurina
as well as Guardians 4 with
Risako
,
Yurina
, and
Saki
. I'm looking forward to this release because she is in so many groups.
And as I am updating the new covers are out for the single Kimagure Princess.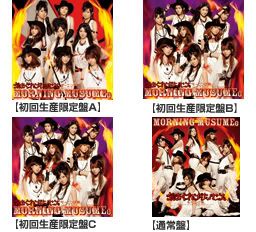 This as big as it is.
It appears that the Limited B cover is the same as the Limited C cover, but the Limited B has a DVD and the Limited C has 10 interchangeable covers. I think I will be getting the regular one and the Limisted C CDs. I am in love with interchangeable covers. So I can't wait to look at the
Mitsui
solo cover. I will warn the Limited C is sold out on CDJapan. I plan to get mine from Yes asia. Well this should be it for now. I will update when the calender and the Hello store stuff comes in, or if there is a blog post.